I started work on my next batch of pipes. The first is posted, named the Red Hammer. Made in the style called the Pick-Axe, I sanded off the point that is normally on the bottom so it can stand. The balance is good enough when it is alone, but once it has some tobacco in it, it'll stand firm.
It was my first experiment with a mahogany stain over cherry. I've liked the way walnut stain goes with the cherry, but wow. The new mix is so much nicer. Vivid and bright, the cherry comes through and the pipe just clamors to be looked at. I've found my new favorite mix. I expect the walnut stain will just be used from now on for pipes I want dark.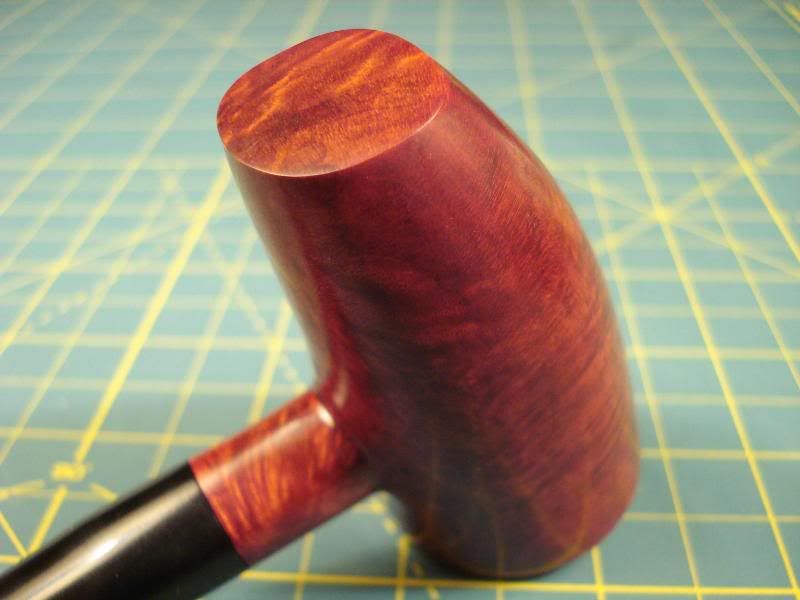 The next pipe I'm working on makes me think of a pear. It is a round, chubby pipe. I think it will come out really pretty, with a yellow stain. The briar block it came from is excellent. No sand pits or flaws in the wood. I'm still filing, but with a little more work I can start sanding. That's when I get to really see what sort of grain patterns this pipe will have.
It should be finished later today, after I go help my father rip up carpet at his house. Ugh, I had hoped to just crank out pipes today, but oh well. Helping Dad is fun, and even if it wasn't, that's what a good son does. Anyway, I should still have time to start the next pipe. I already have the block and stem picked out for a new bent pipe. Drilling the air holes for a bent is a little more difficult than the pipes with a 90 degree angle, but the block I'm using is perfect for it, so I don't expect any difficulties.