The town where I live has a monthly art hop. It gets held on the first friday of every month. There are several studios around town that participate, plus a number of businesses that host artists. The biggest venue is a place called the Park Trades Center, a big old building that has a ton of studios.
This month the art hop falls on the 5th. A friend of mine has a studio on the 3rd floor of the Park Trades building. She decided to do an awesome thing for her friends, and opened her place for a craft show. She only charged a tiny fee to help pay for fliers and the booze. Friggin' awesome!
About 20 crafty folk will be showing their stuff at her place, called the Exquisite Corpse Artist Collective. My wife will have cowls, arm warmers, cat beds, magnets, and some other lovely creations. I will be showing my pipes.
It will be a great night!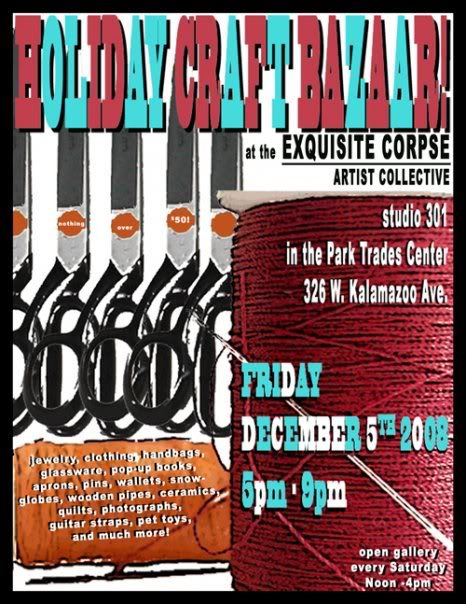 Just a heads-up: If anyone is thinking about picking up a specific pipe in my shop, do it before the 4th of december. I'll be taking most of my listings down so I can take the pipes to the show. Of course, everything left over will be back up on etsy on the 6th.